JUNE THRU SEPTEMBER 2019 –
C.L.R. AT THE "THREE VILLAGE FARMER'S MARKET" in Setauket!
We will be performing live one or two Fridays per month from 4:30p,-6:30pm!!
For more details and dates, please visit www.facebook.com/CountyLineRoadMusic
**RECENT NEWS**
In April 2019, we had an amazing time on the "J.A.M. – Joe Acoustic Mondays" Show on www.GovsRadio.com with incredible musician and host, Joe DeJesu!!  We talked about everything under the sun, played some solo originals and debuted our new co-written song, "Jenny"!!  "J.A.M." airs every Monday night at 8pm. 
To view the live Facebook feed, please click here:County Line Road LIVE on J.A.M. on GovsRadio!!
*****
Online October 2018 Edition of ACES Magazine Here!!
HUGE Thank you to "Cowboy Joe" Cuminale and Amy Augustine for including County Line Road in the October 2018 edition of "Wandering with Cowboy Joe" in ACES Magazine!!  Your friendship, support and aide in helping us raise awareness for IPF is very appreciated.  Thanks as well for your unwavering support of local business, our community and musicians like us.  #LiveInspired
*****
On July 11, 2018,  "County Line Road" released our first co-written song on YouTube titled "It's Ok"!!!   Please check it out here: https://youtu.be/bqxLQlNIBX4
The produced version of our song will be a Bonus Track on my upcoming Solo album, "My Mother's Daughter", features Special Guests: Tony DeStefano and Jessica Upham!!
*****
"County Line Road" consists of Singer/Songwriters:
Don Michael Prager & Robin Eve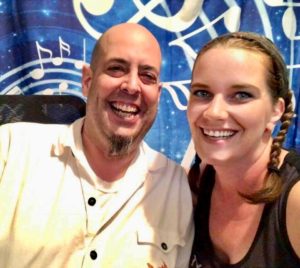 Long time friends who hung out on "County Line Road" in Amityville, NY as teens, Don and  Robin have both been immersed in the Long Island N.Y. Music Scene between band and solo projects for many years.  They have decided to join forces and guitars and look forward to sharing their Music, Friendship & Inspiration through songwriting, videos and live performances.  Don and Robin are also looking to raise awareness for "Idiopathic Pulmonary Fibrosis (IPF)", a "so far" non-cureable, terminal condition that Don has lived with for the past few years.  #LiveInspired
*
Please SUBSCRIBE to Don's YouTube channel, "Overcoming My Lung Disease" !!!
 https://m.youtube.com/channel/UCiERdq3dT7wILSd-3CH6L1Q
Robin Eve Solo:  www.facebook.com/RobinEveMusic
Don Michael Solo: http://www.facebook.com/DonnieVaporMusic
**Tune in for In Your  Home Concerts every Monday thru Thursday at 7:30pm on the Donnie Vapor Music FB Page!!!**