SATURDAY DECEMBER 8TH!
From 11:30am – 6pm, The 5th Annual Music For Mittens and More!!
FB event link here: Music for Mittens in Bellmore, NY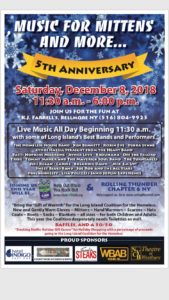 For the last 4 years, the "Music for Mittens" benefit has filled box trucks of warm clothing, home goods and more for the Long Island Coalition for the Homeless, a not for profit organization in Amityville, NY. While most of the work done by the Coalition is for Veterans, they never turn anyone away who needs help.
With Live Music all day long and raffle prizes to win, please come down with your donations and enjoy this wonderful event in its 5th year.
The Coalition accepts everything except furniture and used underwear.
I am honored to be included once again in this year's list of scheduled musicians;
I take the stage with my good friend and percussionist, Steve Wexler (of "Father Jones Band") at 12:30PM.
Organized and hosted by Carine Ulano-Firestone.
TOGETHER WE CAN MAKE A DIFFERENCE!!!
**********************************
** SATURDAY, FEBRUARY 2, 2019 – SAVE THE DATE **
I will be taking part in a music benefit at Bartini Bar in Babylon, NY along with Eddie Trap Band and others!!  More details coming soon!!!
***********************************
*Additional shows are being added so please check back!!
For more details on the above plus additional videos, events and general "Robin Eve happenings", please visit www.facebook.com/RobinEveMusic
Thank you for your continued support
xox
R.E.